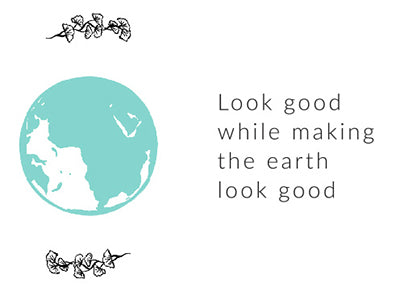 Our journey with the world started when the problem became relatable. Back in 2016, we learnt how much our world is being hurt, by the effects of fashion and lack of love and care in the industry. Care for the clothes we wear and also for the people who make our clothes. This is when we learnt that fashion is one of the most energy consuming & wasteful industries, which contributes to the 10% of the global carbon emissions and 20% of the worlds water pollution.
Fashion also has a low social impact specially on the people who make our products from the farmers who grow our raw materials to the people who craft our clothes.
Often, quantity has been given priority over quality  - quality of the clothing and quality of the planet and the people within it.
The long- term effects of a faster fashion system, are hurtful to our future. And therefore, as slower, kinder fashion system is what the word needs.
We wanted to be a part of the change.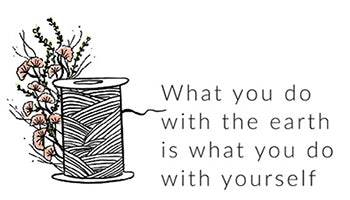 Hence at Sui, we join hands and aim to do this step by step. Each collection will be a new learning for us.
We want to bring you stories which are honest and rooted in this very ethos of a green heart.
For us our travels taught us what this stands for. The raw sense of nature has always been special for us and that is why we choose real views over screens, classics over trends, travel over tourism, experiences over materialism and slow over fast.
Nature is our first love, fashion our second – and caring for both is the only way forward.
OUR PILLARS
1.Supporting Craft & Communities
It is important to us that we honor our roots. We always want to uplift those who help us create our garments so we often collaborate with ethical NGOs and similar establishments as a priority, joining hands with underprivileged / small but mighty communities to create.  Our roots also involve Indian crafts, the tradition grow as they also often produce more sustainably than our modern processes.
WomenWeave are an ethical NGO based in Maheshwarthat support their surrounding community, namely underprivileged women, in thehandloom sector. They have created a safe, beneficial working space that gives them a chance to work for themselves and help support their families.
Since 2018, we have loved working with these women who use their skills to hand weave many of our organic cotton pieces. We first collaborated with them to create our'Wildflowers and Weaves' collection that is entirely created from the fabric they provide us, pairing up our love of all things green  with a craft that is treasured and beloved here in India. From then on, they have grown with us and have been involved in almost every collection after.
Pin and Needles are an ethical NGO that operate out of our very own home base, Delhi. They support underprivileged women, often those who have just migrated to the city, through providing hand embroidery projects, training them first to then be able to create sellable products.
We first started collaborating with them in 2019 where they lent their skilled hands to create some of our 'Granita' pieces. Embroidery has always been a favorite and signature art form of ours, which is why we are so proud to be able to be support this community as well as highlight a craft that can tell stories with every thread.
Bagru Textiles are based in Rajasthan, specifically the Chhipa Mohalla - the village printers' quarters. Their business is particularly special in that many of their dyers and printers have been carrying out the handicraft tradition for generations. It was founded by fifth-generationprinter and Master dyer, Viju Chhipa, and currently supports 16 local families.
Our partnership with Bagru began in 2020 when we introduced our summer collection, 'Tropical Sunshine', where we delved into bringing new print designs to, a first for Sui, hand block printed by this artisan team.
2.Responsibility towards the planet
OUR PLANET, OUR FUTURE, OUR RESPONSIBILITY
Dyeing with no consequences, that is the aim. Within our own process, we are proud to say that 90% of all our garments are herbal dyed, as in the dyes are formed from natural ingredients provided by Truetone Ink, our ethical partner based in Gujarat. The remaining are azo-free dyed to ensure that we stay away from chemicals that are harmful and polluting, but we are moving closer and closer to natural with every collection.
Being sustainable from fiber to fabric has always been one of our core objectives. We aspire to leave as little a footprint on this Earth, whether that is through reduced emissions or waste, and we do this by using sustainably produced fabrics. We use GOTS certified organic cotton, hemp and other eco-friendly blends that are all sourced from close networks from Maheshwar to Mumbai.
We are working towards zero waste. Within production, we always aim to save as much as we can. Every little bit of fabric that falls to the workshop floor is picked up and put aside to be used for other projects like our accessories that are all upcycled. We also produce minimally so that we do not overproduce, this means keeping low stock and creating on a made-to-order basis.
3.Worker Welfare
We call our tailors our threadspellers because they are the ones who add the form to our designs. We learnt early on from our parent company, Sue Mue, what it means to treat all those who work with you with love and respect. Our threadspellers are like an extension of our family. They have a safe place to work, they are paid fairly and are looked after beyond the workspace too.
We call them the heart of Sui.
4.Education
We believe that knowledge is power, and knowledge should be shared as far and wide. Education is an important pillar to our Sui family, inside the company and for our community. We constantly believe in growing as a team, and sharing our resources with our community. We do this via the content we create. From the work we do, to little steps which we can take as people towards the better of the planet.
Instagram
Blog
4.Sustainable  packaging 
Packaging can often be wasteful and from the start of our journey, we wanted to find ways we could pivot that. We use recycled packaging as much as possible, and also keep finding ways to up cycle all our fabric scraps to give them a new life.Plastic – free is our aim, and we are slowly working towards it. All the plastic we use, is reused/recycled to help keep it in the system.